Torvora, the land of heroes.
To get to Torvora you need to be level 450 or higher and go to the main city docks and find the big ship to Torvora. To get there, simply use the steering wheel and you'll be there in a jiffy.
There are lots of things to do on Torvora - Quests, tasks, bosses, houses and more.
Torvora is basically "more" mainland. This area is for high level players, it holds a lot of exciting adventures and great rewards.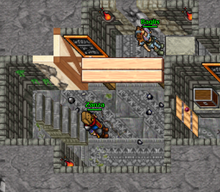 In the depot underground area you can find NPC Baglis, the torvorian furniture salesman.